Fly High Yoga
Training – Fun – Body Structure – Stretching – Balance – Spinal Alignment
In the last decade, the number of new inventions in Yoga skyrocketed. More and more variations and combinations of the add-on "Yoga" have been created in order to serve the quite diverse needs of an ever growing number of practitioners. While some Yoga inventions still stick at least to the basic ideas of how and for what purpose Yoga was originally invented this doesn't count for all of them.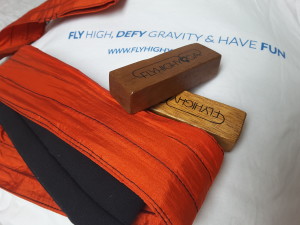 FlyHigh Yoga is a very interesting mixture of new concepts based on the use of this new tool, the FlyHigh Yoga belt, and traditional ideas and principles of the yogic tradition. The FlyHigh Yoga belt hangs from the ceiling, a tree or something else where you can mount it, and allows certain postures that would not be possible without it. While there are standing sequences in FlyHigh Yoga, a good part of the practice actually happens, wrapped one way or the other in the belt, quite often upside down in order to use gravity to align the spinal column. Spinal alignment and the fun that comes with hanging upside down are two main factors that characterize FlyHigh Yoga.
Literally changing perspective physically is truly amazing and can help a lot to break out of uncomfortable or restricting physical, mental or emotional states. Changing a pattern that no longer serves you can be done much easier once you look at it from a different angle. And apart from the obvious physical benefits, FlyHigh Yoga can serve as one way to shift your focus.
Some physical benefits of FlyHigh Yoga: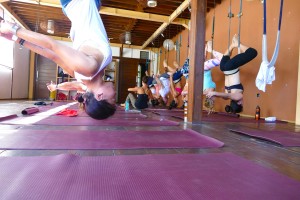 Spinal alignment
Decompression of the intervertebral discs
Stretching
Strengthening of the core muscles
Increasing mobility of the spine
Balancing of hormones
Etc.
Full of exploratory spirit, fun, movement, gentle stretching and training, FlyHigh is a great method to complement your already existing practise of Yoga and all kinds of sport, but it can also be used as a standalone recalibrating method that enhances agility and joy in your daily life.
If your mind runs wild and you don't know how to calm it down but meditation is too static for you, you might just wanna try the combination of calm postures in standing sequences and dynamic ones hanging upside down in the belt. This is what makes FlyHigh so interesting and versatile.
The system of FlyHigh Yoga was founded by Jose Luis Jimenez, a former Iyengar Yoga instructor who decided to take the training to the next level. In Iyengar Yoga a rope that's fixed to a wall is used as a support mechanism in training. Jose developed this principle further by hanging the rope from the ceiling and changing it into what we know today as the FlyHigh Yoga Belt. Using this new "training-partner" (the Fly High Belt) Fly High Yoga can be used complementary to any other yoga style and furthermore be a great training and/or balancing tool for all kinds of movement and sports.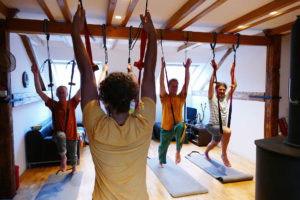 Although some positions look quite acrobatic, FlyHigh Yoga can be done by almost everyone, because there are many ways to adjust the positions and training intensity in order to support different needs and abilities.
No matter if you want to use the belt just for a couple of minutes after work, to realign your spine and relax your body again after a long flight or hard physical work or if you want to use it for training, it's a great "partner" for all purposes. It is easy to install, has a relatively small packing size and is extremely light in weight.
As mentioned above, FlyHigh Yoga is awesome to be combined with different kinds of sports. Whether you want to use it as a warm up routine, to stretch certain muscle groups or to train specific muscles it can be adapted to do so. Also there are many different ideas of how to realign the spine and regain a proper natural and healthy bodystructure. Most systems I've come across lack this small bit of an extra lengthening opportunity on the spine. I've found FlyHigh Yoga to be a great method to be combined with other systems of structural work. The possibilities that arise from the synthesis of Fly High with other methods which promote a healthy body structure are amazing.
FlyHigh Yoga is still a young system that is constantly expanding and in a process of rapid growth when it comes to different postures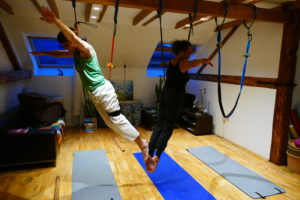 and flow sequences.
As mentioned above FlyHigh Yoga can be done by almost everyone.
Still, there are some situations when you should be careful or avoid doing any FlyHigh training. The most important ones are listed here:
Thrombosis
After a history of stroke
Osteoporosis
Within 6 weeks of fractures
After surgery
Artificial bleeder
Hernia
High or low blood pressure (talk to your trainer first!!)
Pregnancy after from 3rd month onward (Talk to your trainer!!)
Artificial joints (talk to your trainer!!)
During menstruation (This point is still not clear. While some women have no problems, or even enjoy FlyHigh during their menstruation, others don't like it at all. So in this case it's up to you to decide and maybe try it out. It is definitely a good idea to reduce upside down time in the belt during your menstruation. However, there is no medical contraindication known so far.
Overall FlyHigh Yoga can have a broad spectrum of positive effects, reaching from the physical structure to emotional, mental and spiritual balance and development.
The most obvious positive effects are:
Stretching of almost all muscles in the body according to one's needs
Strengthening of the core muscles, the upper extremities and the spine
Increases your balance and coordination
Eases emotional and mental strains
Brings a lot of fun and joy into your life
Helps to shift perspective
Increases your self confidence
Balances tension in your body
Gently activates body, mind and energy
Cleanses the bodystructure from toxins
Helps to center oneself
Balances the hormone system
Increases self-awareness
Increases self-acceptance
Increases your grounding and your ability to stay calm and relaxed in your center
Helps to work through limiting beliefs
Helps to rid yourself from blockages
Makes space for the organs and helps to relax them deeply
Spinal Alignment
Rehydration of the intervertebral discs
Reduces excessive tension
Increases inner clarity
Conclusion: It's fun, it's very different and it feels great!
official website: Fly High Yoga